The Right Way to Start a Blog That Makes Money From Day 1
Everybody has a dream.
Some people dream of sitting by the ocean, enjoying a cool drink whilst earning the same if not more money than their 9-5 job could have ever given them.
If you start a blog, that dream can become a reality.
Just search on the internet for "blogging income reports". You'll find tons of bloggers who earn anywhere between $1000-$100,000 a month just by writing on a computer.
In fact, I earned almost a hundred dollars in my very first-month blogging.
So how can you start a blog that will earn money from day 1 of launch?
I'm going to show you how exactly you can do that in 2019, even if you're not as geeky as most of us.
What You Need to Know Before You Start a Blog
Blogging is either a business or a passion project.
You'll have to keep that in mind before you proceed. Do you want to start blogging to make money, or are you just doing it for fun?
Either way, you can still benefit from this tutorial.
Another thing you'll have to know. If you're blogging as a business, you'll have to keep in mind that preparation is key.
Proper preparation prevents poor performance!
You can't just enter into a new business without knowing anything about how it works.
And just like any other business, you can't expect to get it started for free. Unless you're blogging as a hobby, you're going to have to pay for a few things to make it successful.
If you don't want your blog to flop, I recommend you check out why 5 of my blogs failed, and also see the seven deadly mistakes you can make as a new blogger.
Alright! Now that you know the basic stuff, let's get started!
Step 1: Niching Down
You're Niche.
This is the single most important thing that you'll consider when starting a blog.
Your niche is basically what you're going to blog about. It can literally be anything.
I want you to sit down and think about it. Ask yourself these questions:
What do I love talking about?
What can I comfortably write about?
Can I share experiences about a particular topic?
Can I Monetise (make money) in any way by talking about this?
How popular is what I'd like to talk about?
These will help you choose a good niche and that will, in turn, help you start a blog the right way.
Here's another pro tip! If you want to start a blog that will make money really fast, then you might want to choose a popular niche or a niche that many people are interested in.
Lucky for you, successunscrambled.com has an amazing post that covers that. Here's a graph from the website: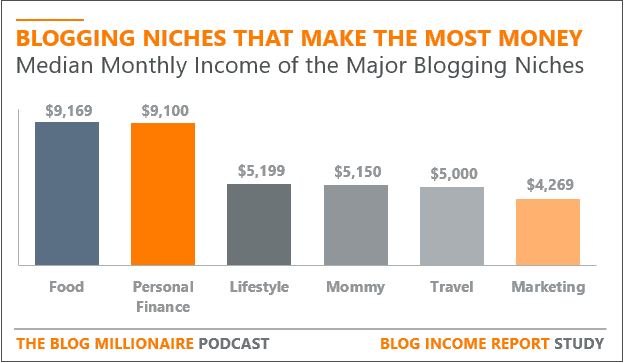 You can check out their blog post if you'd like more knowledge about it. But I think the graph gives a great explanation.
So have you chosen what you're going to blog about? Great! Let's move on.
Step 2: Choosing Your Blog Name, Domain, and Host
A lot of people may wonder what the difference between a blog name, domain and host is…
A blog name is self-explanatory. It's the name of your blog! Mine is called Velicour, and yours can be anything of your choice.
It can be your name, it can be what you blog about, or it could just be something fun! Better still, it could be a combination of all of these.
Here are a few of my favorite blogs that have great blog names!
You can imitate that, or come up with something of your own!
Now on to your domain.
Your domain is like an address. For example, if you want to visit a man (let's call him Stephen Strange 🙂 ), you'll have to go to 177A Bleecker Street.
My domain is velicour.com. If you type that in your browser's address bar, you'll go straight to my site.
Your domain can be the same as your blog name, a variation of your blog name, or something entirely different.
I don't recommend choosing a domain that is entirely different from your blog name because it could lead to a lot of confusion.
Here are some tips for choosing a great domain:
Don't make it too long! 15 characters or less is fine.
Don't use any misspellings. It will be easier to remember cookiecraze.com than kookikraze.com
Try to use a .com domain name since it is more globally known. You can still use any other domain extension, but .com is the best.
Try to use something related to your niche
Have you thought of one? Great! Now you can check if it is available by typing it in the field below.
Don't worry if it's taken! If you tried with a .com name, you can try again with a .co or .blog or whatever you wish. But remember, .com is easier for most people to remember.
Let's get started with hosting. If you want to start a blog that makes a ton of money, you're going to need a good host.
If you don't know what a host is, then think of it this way. If your domain is an address, your host is sort of like the land that you'll use to build your house which is your blog.
Your host builds the foundation of your blog
So how can you pick a good host?
There are literally thousands of hosts in the world, so which do you choose.
I recommend Bluehost. (And I don't recommend them because I'm an affiliate for them)
This start a blog tutorial is more focused on the tech illiterates among us, and if you want a user-friendly host that won't give you a headache to operate, you might as well go with Bluehost.
Bluehost is the #1 hosting for WordPress blogs (which is what we are building BTW). Here are some reasons why I prefer Bluehost to most hosting companies.
They are extremely cheap
They give a free domain and SSL Certificate. (Over $30 value)
They literally have 24/7 support
They are the #1 recommended host for WordPress.org
30 Day Money Back Guarantee
World Class Page Loading Time.
Great For Beginner Bloggers (They install WordPress.org for you without the technical know-how i.e FTP).
But that DOES NOT mean that you can't choose another host. If there's another hosting company that you know and love, feel free to use them.
Alright! This is where the journey begins. All the talk ends here, let's start a blog together! 😀
#1. HEAD OVER TO BLUEHOST.COM AND CLICK GET STARTED NOW (You also get a $4 discount)
#2 CHOOSE ANY PLAN YOU'RE COMFORTABLE WITH.
#3 TYPE THE DOMAIN YOU THOUGHT OF BEFORE.
#4 ENTER YOUR PERSONAL AND PAYMENT INFORMATION.
#5 ENTER YOUR EMAIL AND PASSWORD
And boom! That's it for hosting!
Now we're getting to the good stuff. You've just bought land for your new home, so let's actually start a blog together.
Setting Up a Theme
In the blogging world, LOOKS MATTER. If you want to start a blog that makes tons of money, get brands to work with you, get reader trust, and build a loyal fanbase, the secret lies within the theme.
You can either get a free theme or a paid theme. When you finish signing up with Bluehost, you'll be shown a wide variety of themes to choose from.
You can choose any of those free themes… OR… you can buy a professional theme with more customization options.
You can buy one of the thousands of themes available on themeforest.net. Most of them are extremely affordable so don't worry.
If you want to start a blog that's more on the feminine side, you may be looking for a more feminine theme…
Bluchic has a ton of premium WordPress themes that are more on the feminine side. All these themes are the kind of themes that potential clients are looking for, and they can help you better monetize your site!
Oh! And if you don't know how to install a theme, don't worry, each paid theme has a guide about how to install it.
Now you are free to customize and play around with your theme.
Prepping for Launch
There is a huge difference between starting a blog and launching a blog.
When you start a blog, you're basically just building it. But launching it introduces it to the general public.
You don't launch an empty, poorly built blog.
I took around two days to launch my blog because I was on a really tight schedule. But some people spend more than two weeks.
Here's what you'll have to do before you launch your blog.
Start Posting Content
To start posting content, head over to your WordPress dashboard. Click Posts —> Add New.
Now start typing! For better posts, I recommend that you use the Yoast SEO plugin. It can help you get on Google's pages and get visitors from google.
To find the Yoast SEO Plugin, go to Plugins —> Add New —> And Search for "Yoast SEO" in the search bar.
Install it then activate it, and then you're good to go!
I recommend that you write at least 10 blog posts before you launch your blog to make yourself look more "legit".
Try to aim for at least 300 words per article.
Adding Necessary Pages
By necessary pages, I mean your about page, your privacy policy, your disclaimer, and your contact page. These are necessary elements of any blog.
Customizing Your Blog
I can't give a tutorial on this one because every theme is different. All you'll have to do is set up your menu, choose your color scheme and set your logo.
Don't forget that branding is a very important thing to consider when you start a blog because it will help readers to remember who you are.
Now let's get to the juicy stuff! How to get readers to your blog and *gasp*…. how to make money from it.
Getting Visitors to Your Blog Posts
There are a thousand ways to generate visitors (also known as traffic) to your blog posts. I currently use a mixture of Pinterest, Reddit, and Google to generate most of my blog's traffic.
Here are a few posts from me and other bloggers!
Monetizing Your Blog
There are so many ways to monetize your blog. You can start by using Google Adsense.
Google Adsense is a platform which allows you to deliver ads to your readers. You make money when someone sees and clicks your ads.
But that isn't the only way to monetize your blog. You can use affiliate marketing, email marketing and you can even sell your own products online.
You can check out a few articles about blog monetization.
And that's a Wrap
Congratulations for making it this far down the post. Also, congrats to those of you who made the decision to start a blog. I promise you won't regret it :).